Inspired by the 5 elements of nature: air, fire, water, earth and space.
With the experience and knowledge we have of alchemy in Ayurveda and Chinese Medicine together with our artistic creativity, we design these works to delight you.
The rituals are elaborated so that you can experience them in your skin, in your senses, so that you smell them, listen to them, so that you feel their archetype and emotion.
Each element with its qualities and characteristics surrounds you in a unique experience.
We can recommend which is the best choice according to your tastes or physical, psychological and physiological constitution.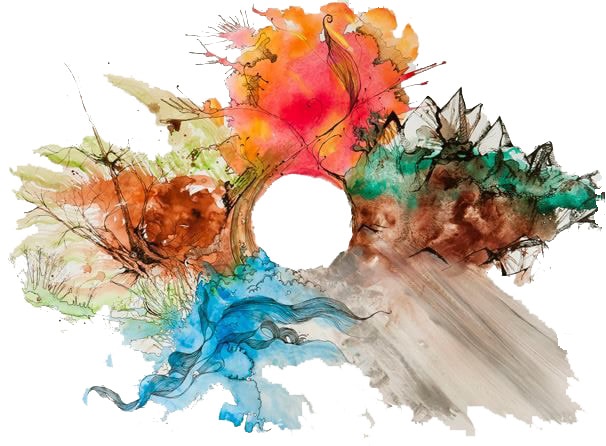 "Invitation to nothing, entrance to the space of being"
Take resources of Abhyanga massage, to take hold in enveloping passes, Hawaiian massage and evoke a deep feeling of weightlessness.
Variety of temperatures, aromatic oils, in this expansion journey.
Benefits: promotes attention, disconnection, energy cleanup and integration.
"Water of light, springs"
From the summit of Ayurvedic medicine slides a wave of waves of Quiromassage, which reminds the body of its fluidity
Exfoliations, cleanings, nutrition, the sea unfolds its therapy.
Benefits: Fluidity, hydration, renovation.
"Heady melody of the breeze. You fill us, empty"
A stretcher adaptation of the traditional techniques of Thai massage, unlocks rigidity, mobilizes the joints and lightens the worries.
Internal wind blasts, continuous breathing, changing … but always warm, Xaloc
Benefits: Attention to breathing and its effects, increased flexibility, lightness.
"Continuous transformation. Trust made dance"
Fusion of Quiromassage and marma points, at the beginning with dense and slow passes, evolves towards a more vigorous massage, which provides a sensation of lightness.
Brushes and brushes, fan the flames.
The stones provide temperance.
Benefits: Muscle toning, energizing, improving circulation, stimulation of creativity.
"Cry the sky, soak the ground... it emanates its essence"
Through the Decontracting Massage, and the points of Shiatsu, we realize the accumulated tensions, it is the moment for the discharge,
Although intense, the process, gives an authentic and deep calm
Benefits: release of contractures, progressive relaxation, promotes delivery.